Fraserburgh beer company BrewDog makes record sales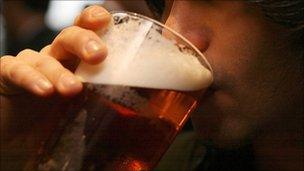 Scotland's largest independent brewery BrewDog has announced a 230% increase in UK sales compared with 2009.
The company said that on trade sales in the last quarter of 2010 also grew by 260%.
BrewDog sold more than £7m bottles worth of beer in 2010, having sold £3.2m bottles worth in 2009.
The Fraserburgh-based company predicted its UK market share would continue to increase across both the on trade and the off trade in 2011.
Company co-founder James Watt said: "BrewDog's success is evidence that the UK's growing taste for artisanal beers is not a temporary trend."
He added: "Mainstream breweries are 'running scared' of the craft beer revolution".
Related Internet Links
The BBC is not responsible for the content of external sites.