Scottish Salmon Company reports record profits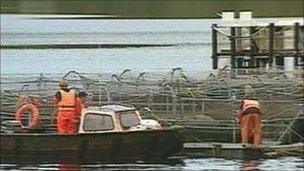 The Scottish Salmon Company has reported record results for 2010 with profits increasing by almost 50%.
The company announced pre-tax profits of £5.6m for the last quarter of 2010 and £22.5m for the year, compared with £11.1m for 2009.
Turnover for the last quarter of 2010 increased to £29.2m from £22.9m for the same period in 2009.
Revenue for 2010 was £92.4m, up on £64.6m in 2009. Harvest volumes exceeded estimates at 24,516 tonnes.
Chief executive of The Scottish Salmon Company Bill Hazeldean said: "2010 was a transformational year.
"While we have been able to capitalise on a strong market to report record results, the company has continued to invest in its operations as we focus on long-term sustainability and success."
He added: "The overall outlook is positive and solid performance is anticipated going forward."
The firm's facilities are located in remote rural locations throughout the west coast and Highlands of Scotland.
Related Internet Links
The BBC is not responsible for the content of external sites.