Snow drags down profits at Goals Soccer Centres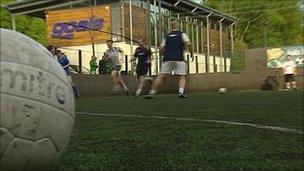 Bad weather has wiped £1.7m from the profits of East Kilbride-based Goals Soccer Centres.
Profits before tax fell by 14% in 2010 to £7.6m, however sales were up 6% to £27.8m.
The company said it had opened five new centres during the year and planned to unveil at least four more in 2011.
Goals said sales were up 5% at the beginning of this year and it was in a good position to capitalise on the growing popularity of five-a-side.
Keith Rogers, managing director of Goals said: "During the year we have taken further strides to strengthen our position as the premier five-a-side soccer operator in the UK.
"Over the last 14 months we have added eight new centres giving us a 42% share of the market and our pipeline remains strong."
Goals also opened its first centre out of the UK in 2010, in Los Angeles.
Related Internet Links
The BBC is not responsible for the content of external sites.