Packaging firm Macfarlane Group cuts pension costs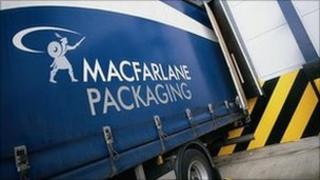 Packaging firm Macfarlane Group has reported an increase in profits as it cut its debt and pension costs.
The Glasgow firm made £4.2m last year up from £2.5m in 2009 with turnover up by nearly 10% to £135.5m.
Macfarlane reduced its pension deficit by 23% to £15.7m and said it would take further action to cut it even more during the next year.
The company said trading during 2010 had been "testing" with "challenging cost price pressures".
Archie Hunter, chairman of Macfarlane Group, said: "A year ago the challenge was clear - to deliver on the strategic action plans developed to take advantage of the strong foundations the group had created.
"In the event, progress has been achieved in a number of areas but the main focus of attention had to be on the response to the largest supplier price increases the group has had to deal with for many years."
Macfarlane Group employs 700 people at 22 sites mainly in the UK and Ireland.