Engineers report a rise in sales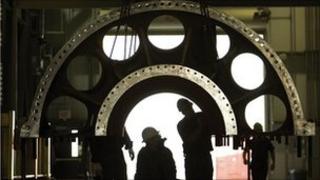 Scottish engineering firms have reported another strong quarter with a rise in orders in both the UK and export markets.
The latest industry review from Scottish Engineering shows strong growth in orders for the past nine months.
However firms are being squeezed by the rising cost of fuel and raw materials such as metals.
The survey found that all sizes of firms were experiencing improvements.
However, the one exception was metal manufacturing where total orders were down, with 44% of companies saying orders had dropped and 31% saying they were the same. Only 25% of firms said orders were up.
Overall, in the three months to the start of March this year, 41% of businesses who responded to the survey said export orders were up, 40% said they were the same and 19% said they were down.
Skills shortage
Dr Peter Hughes, chief executive of Scottish Engineering said rising prices were "attacking margins".
He added: "The cost of raw material, especially steel and carbon steel is very expensive, copper is ridiculously expensive, then of course utility costs have been significantly higher as well.
"So if you've been on a fixed-term contract for a year or two or in some cases even three, you suddenly find your new price is 30 to 40% higher than you've been operating at and that's quite a big jump."
Dr Hughes also claimed that a lack of skilled staff could drive companies abroad, and that he already knew of some firms which had used plants abroad, in China and Poland, to fulfil orders.
He said : "I've just completed a tour of Scotland, taking in seven sites - Aberdeen, Dundee, Fife, Edinburgh, Lanarkshire, the Borders and Clydebank - and in every single district there are skills shortages. Companies can't get mechanical engineers, electrical engineers and welders."