Edinburgh tops list of Scotland's most expensive street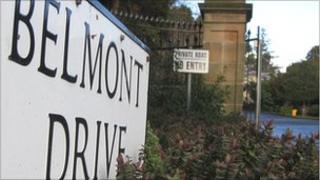 Belmont Drive in Edinburgh has been named as the most expensive for property in Scotland, according to research from Bank of Scotland.
The average property on the street, which is near Murrayfield stadium, was valued at £2.3m based on house sales over the past four years.
Fifteen of the top twenty streets in Scotland were located in Edinburgh.
Ettrick Road was the second most expensive street at £1.9m followed by Dick Place at £1.6m.
Outside Edinburgh the most expensive streets were Hill Road in Gullane (£1,330,000); Rubislaw Den South in Aberdeen (£1,179,000); Countess Gate in Bothwell (£1,060,000) and Craigielaw Park in Longniddry (£1,022,000).
There were an estimated 14 streets in Scotland with an average house price above £1m.
For Glasgow, Kingsborough Gardens (£949,000) and Westbourne Gardens (£895,000), located in the west end of Glasgow, were the most expensive streets.
Nitesh Patel, housing economist at Bank of Scotland, said: "As the political and financial capital of Scotland, unsurprisingly the most expensive residential streets can be found in Edinburgh."
"Across Scotland the survey shows that the most expensive streets are tightly clustered in relatively small areas."
The survey used the average prices of house transactions between September 2006 and September 2010.