Maxim offices secure future after sale of BoS debt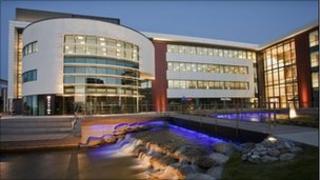 Scotland's biggest office park has been saved from financial collapse by the sale of Bank of Scotland debt to an American private equity investor.
Maxim office blocks in Lanarkshire, on a prominent site by the M8 motorway, was opened in 2007, but has secured few tenants.
Cerberus Capital Management, a New York-based investment house, has taken over the bank debt from Lloyds Banking Group.
That loan is thought to have been £95m.
Due to falling property valuations and losses on the Maxim project, it has been sold on for about £30m, with the £65m difference being written off as part of Lloyds' bad debt.
Participants in the deal would not confirm the figures.
Along with the debt restructuring, a new agent, Arisaig Property Partners, has been appointed to improve marketing of the one million square feet of space, three-quarters of that as office space, as well as nearby properties at the Eurocentral business park.
The office blocks, built on the site of the former Chungwa electronics factory, will continue to be run by Tritax, a large UK property specialist.
It has secured the agreement to the restructuring deal from more than 1,000 individual private investors behind the Maxim project.
Many were attracted by the tax breaks from its enterprise trust status - the largest such zone in the UK. Avoiding administration has allowed them to retain those tax advantages.
Cerberus is to offer those investors the opportunity to co-invest in the new funding structure, as a joint venture to be co-ordinated by Tritax.
Henry Franklin, partner at Tritax, said: "As the largest Enterprise Zone in the UK and the largest development of its type in Scotland, securing the desired result for all the parties involved was challenging, but with the commitment and vision of Cerberus and the backing of the private investors, a solution was found that has secured a vibrant future for Eurocentral."
David Gebbie, partner in the new property marketing company working on Maxim, said the restructuring was "a great boost for the park" as well as a vote of confidence in the Scottish and UK commercial property market.
"We have already had discussions with a number of organisations potentially interested in joining the tenant list and the feedback we are receiving is very encouraging," he added.