West Coast Intercity: four train firms shortlisted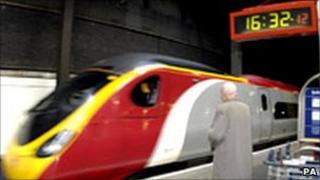 Four companies have been shortlisted by the Department of Transport for the West Coast Intercity rail franchise for 2012 to 2026.
The train service, which runs between Glasgow to London Euston, connects Scotland, northwest England and the West Midlands to the English capital.
Shortlisted firms include FirstGroup and Stagecoach, both based in Scotland.
Dutch firm Abellio and an alliance of the French transport companies Keolis and SNCF have also been selected.
Abellio is a company controlled by the Dutch operator Nederlandse Spoorwegen.
Stagecoach, the bus and train company based in Perth, has run the service between Glasgow and London Euston as part of Virgin Rail for the past 14 years. Virgin Rail is 49% owned by Stagecoach and 51% by Virgin Group.
Aberdeen-based FirstGroup already holds the ScotRail and TransPennine franchises.
Olympic service
The West Coast franchise begins from April 2012 and runs for 14 years, with an option on another year after 2026.
The franchise conditions say the operator must introduce new rolling stock on one of Britain's busiest lines, at a time when it is expected to grow close to capacity, and ensure improved services during the Olympics in London next year.
The Department of Transport also announced a shortlist of bidders for the Greater Anglia service - including Stagecoach, the Go-Ahead Group and Nederlandse Spoorwegen.
That franchise runs for only 17 months from next February, with an option to extend for a further year. The franchise conditions are then to be changed.
With the shortlist for bidders in place, the Department of Transport will issue an invitation to tender next month, and should announce the franchise winners this autumn.