One third of Scots firms 'expect rise in turnover'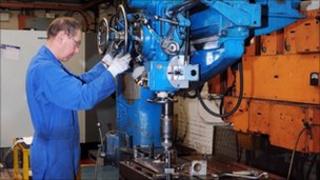 Almost a third of Scottish firms expect turnover to rise in the next six months, a survey has suggested.
The latest Lloyds TSB Scotland Business Monitor indicated expectations for turnover rose to reach their highest level for three years.
However, production firms were noticeably more optimistic than service businesses.
The quarterly survey also suggested Scottish economic recovery was severely disrupted by bad weather last December.
Nearly half of firms experienced a fall in turnover for the three months to the end of February.
It suggested severe weather hit both the production and service sectors.
Results for the latest quarter showed 25% of firms reported an increase in turnover, 30% experienced static turnover while 45% experienced a decrease.
Firms' assessment of their business progress was universally negative, but their assessment of their immediate prospects in the next six months was radically different.
While 26% expected their turnover to fall and 42% expected no change, 32% expected turnover to increase.
Donald MacRae, chief economist for Lloyds TSB Scotland, said: "After five falls in seven quarters, the Scottish economy showed robust growth in quarter two last year of 1.3% followed by more trend-like growth of 0.5% in quarter three.
"Given the effect of the severe weather of last December, growth in the last quarter of 2010 is expected to be around zero or even negative."
A total of 420 businesses took part in the survey, which is run by Strathclyde University's Fraser of Allander Institute.