Oil firms 'rethink investment' after £2bn tax hike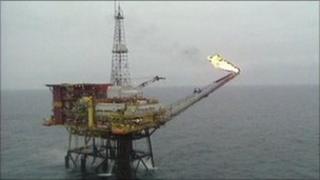 Oil firms are now "rethinking" their plans for investment in the North Sea over the imposition of a £2bn windfall tax, according to an industry leader.
Malcolm Webb, head of the trade body Oil and Gas UK, called for emergency meetings over the move, announced in the Chancellor's Budget last week.
The industry has claimed tens of thousands of jobs in the UK could go.
Norwegian oil giant Statoil told BBC Scotland it was now "reflecting" on its North Sea investment.
It currently has a £3bn investment in the Mariner field and has not cancelled production there, but said it was considering the implications of the new tax.
Graham Stewart, chief executive of Aberdeen-based Faroe Petroleum, said the rise would have an impact.
"We're active in Norway, which is known as quite a high tax environment. But they encourage exploration by giving companies tax rebates the year after they've incurred their costs.
"The UK's doing quite the opposite, it's making it more difficult for exploration companies.
"So it will more than likely cause some degree of movement out of the UK.
"I think Norway, from our point of view, is the area we'll focus a bit more on."
Surging oil prices
Oil and Gas UK wants to discuss the move with the Treasury and with the government-industry forum, Pilot.
It follows the Budget announcement of a £2bn tax to fund a fuel duty cut, after a surge in global oil prices.
The trade body's economic director Mike Tholen rejected claims that the reduction in corporation tax will balance the loss of revenue.
"I'd like to say that was the case," he said.
"Unfortunately our corporation tax is 30% basic. We pay 32% on top and that will not change because of the Budget.
"So we're still in circumstances where tax goes down for the rest of industry but goes up for us.
"It's not the best way to maximise investment in the UK's resources."
Senior members of Oil and Gas UK met in Aberdeen on Monday to discuss its response.
It said the Budget looked like it was constructed hurriedly, without assessing the damage to investor confidence.
Chief executive Malcolm Webb said: "The move has made companies rethink their plans to step up investment in the next few years, jeopardising tens of thousands of jobs as well as indigenous oil and gas production which will likely lead to an increase in the import of these fuels.
"The lost trust will take a very long time to rebuild. Meanwhile, the industry has called an emergency meeting of Pilot, the government-industry forum established to help maximise recovery from the UK continental shelf, and also with the Treasury."