Scotch whisky exports rise by 10%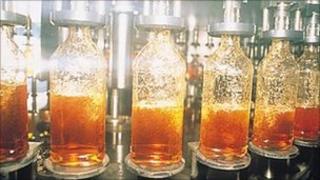 Scotch whisky exports reached another record high in 2010, totalling £3.45bn - a rise of 10% on the previous year.
This means the value of overseas sales was £109 every second.
Exports grew in eight of the 10 top markets and the US remains the biggest market for Scotch, with sales increasing by 19% to £499m.
Sales in Europe remained flat with a steep decline in countries such as Greece and Spain but demand picked up in many Asian and African nations.
In Greece duty on Scotch whisky was increased three times last year as part of its government's efforts to raise revenue.
Sales to Russia rose by 61% to £31m and increased to South Africa by 56% to £169m.
The Scotch Whisky Association (SWA), which compiled the figures from HM Revenue and Customs data, said there was a "continued premiumisation" across the industry.
'Export-led recovery'
It said that although volumes dropped marginally, the value of sales rose indicating that customers were opting for higher priced brands.
Gavin Hewitt, chief executive of the SWA, said: "Scotch Whisky is a world class industry that consistently delivers for the UK. Global exports increased for the sixth consecutive year and are now 60% higher in value than in 2000.
"This year's strong performance - contributing £109 a second to UK exports - demonstrates that distillers are playing a key role in export-led recovery."
The association said exports were helped by progress made in trade discussions with a number of countries including South Korea and China.
India remains the focus of trade negotiations and the SWA said it looked forward to their "successful conclusion".