Five-star Gleneagles hotel reports operating loss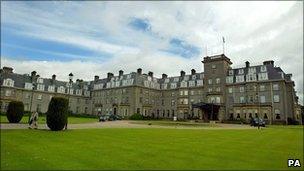 Gleneagles hotel suffered a loss of £780,000, according to its most recent accounts for the year to last June.
That increases the operating loss from the previous year by £226,000.
The five-star golf resort suffered from a sharp downturn in luxury leisure spending, along with a fall in corporate conferences and entertaining.
Management at the Perthshire hotel, which is owned by the drinks company Diageo, said revenue had fallen by 5% to £33.6m.
But it stressed that it was committed to maintaining long-term brand reputation, and was unwilling to cut costs to lower the levels of front-line service.
That includes continuing a full, year-round operation, however, costs have been cut behind the scenes.
Having hosted the G8 conference in 2005, Gleneagles is the venue for golf's Ryder Cup in 2014.
It is refurbishing its Dormy golf clubhouse at a cost of £2.5m, which is due to open this month.
Patrick Emslie, the hotel chief executive, said: "As economic confidence returns, we are confident that growth will be restored as we build towards 2014".
Despite rising losses, senior directors' pay at Gleneagles has risen by more than 50%.
Mr Emslie said this was because bonuses were based on new targets, which were changed to reflect the economic downturn, and which also reflect improved cashflow in the year to last June.
Related Internet Links
The BBC is not responsible for the content of external sites.