An unflinching look at the book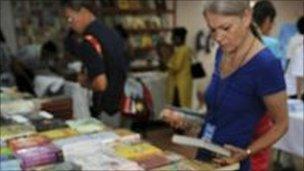 The publishing industry is heading for the London Book Fair, at a time of unprecedented challenge, and a real threat that many British towns and cities could be left with no bookshop.
Experts reckon we're close to a tipping point from paper to electronic books.
In the UK, it is at about 5% of the market, but growing fast, whereas in the United States, it has reached 10%.
Amazon announced in the middle of last year that book downloads were outnumbering its sales of hardbacks. By the end of last year, they had outstripped paperbacks.
And in a battle to win the war of the ebook formats, Amazon is pushing its Kindle device hard, without being open about how many it is shifting.
Apple's iPad and Google have their own formats. And as these global brand giants fight it out for supremacy, the bookselling trade is being squashed.
Amazon has about 80% of online book sales, demanding very big discounts from publishers of 50%, up to 65%.
High street retailers are more likely to ask for about 45% discounts.
At the start of last year, Borders in the UK went under, and its US cousin is now at risk of doing the same.
Ottakar's, James Thin and Dillon were among the other chains that had already disappeared from the British high street.
Waterstone's is the only chain of bookshops left, with about 30% of the UK book market, and its parent, HMV, is lurching from one profit warning to the next, with store closures already under way.
That could leave many towns, and even cities, without any dedicated bookshop.
So e-publishing and e-retailing is having conflicting effects.
It's easier and cheaper to publish and to sell. But it's much harder to find space on shelves from which readers can browse, and that forces Scotland's publishers - mostly small operations - to be smart about their move into e-publishing.
Luath Press, for instance, publishes Scottish titles out of a tiny attic office above Edinburgh's Royal Mile.
It's just started on e-publishing, and is offering an app for its hillwalking and trekking books, with which to promote the print edition.
Marion Sinclair, chief executive of trade association Publishing Scotland, says e-publishing is a huge challenge, but it offers opportunities for publishers to have a direct relationship with readers.
"In the past few years, globally, print sales have been shrinking, but our specialist niche publishers have been doing well," she says.
"The key is to know your market, get close to readers.
"A lot of publishers in Scotland are small, and it's an uncomfortable position to be in, when you've got the likes of Google, Apple and Amazon, grabbing market share.
"It's difficult to find your way in that landscape, difficult to get your books noticed on their view pages, difficult to buy a window space in Waterstone's."
Ms Sinclair went on: "The online environment allows you to have a more level playing field, big or small, if you can reach out to your community of book-buyers there is a good, viable future.
"Particularly with e-publishing, if you can reach out with Scottish books to the Scottish diaspora - what better way to reach them in, say, New Zealand than having them download books at the touch of a button?"
To hear more on this issue, listen to Radio Scotland's Business Scotland programme on the BBC IPlayer.
Related Internet Links
The BBC is not responsible for the content of external sites.