Scottish book publishers face trying times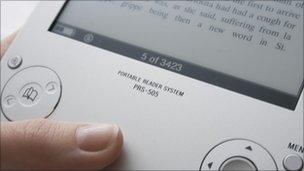 Hugh Andrew is managing director of Birlinn/Polygon publishers in Edinburgh. He also owns bookshops in north-east Scotland. He spoke to BBC Scotland's Business and Economic editor Douglas Fraser on the challenges faced by the publishing industry.
"There are three or four huge challenges the book trade faces which are particular to it," Mr Andrew said. "The first is that there's a savage retail recession going on. There's no question of that now.
"There's a huge challenge in terms of internet competition with the high street bookseller. Certain internet players are using price very aggressively to establish themselves as huge players in the market.
"And the third seismic shift is to e-books and electronic information flows."
In response to the issue of e-publishing, Mr Andrew said: "It massively reduces the cost of getting into print. Your distribution chain is much cheaper - it's simply a cable. And it has huge potential.
"But on the flip side, there are great opportunities for piracy, It's easy to take off the DRM, the digital rights management, for a book.
"We have huge threats from people like Google, who have some rather interesting ideas on what should be done on copyright, who should control it and who should dictate the price of it."
The industry has also witnessed significant changes to consumer behaviour in recent years.
Mr Andrew said: "Certain categories of books are moving particularly quickly to the e-book format. Fiction in particular.
"It's very convenient if you go on holiday, you don't have to carry many books, but an electronic device.
"For academic books, which are high price, low print-run paper products, have huge potential.
"In the middle ground, I think there will continue to be a substantial demand for paper product."
Why is high street retailing in such trouble?
"The high street model of bookselling was fundamentally flawed from the beginning.
"You could only make money on the high street in times of retail boom, and with no competition from other sources.
"The traditional model of bookselling before Waterstones, was family companies running regional or national chains on secondary locations, and it worked.
"But then all this money was conjured up from the city to pour into this very expensive vision to move on to the high street.
"Waterstones has a huge, unwieldy store network that's too big. In Edinburgh, there's something like seven or eight Waterstones and HMVs.
"It's simply too many. There is, I'm sure, a profitable core to the group, and getting to it is the problem."
How do you see the future of the bookselling business?
"Speaking for ourselves, in the last few months of last year, Amazon overtook Waterstones producing growth for us of between 50% and 70% per year.
"I don't think that's unusual in the book trade, whereas Waterstones and traditional networks have been in steep decline.
"WHSmith's are having a very difficult time at the moment. I'm not sure where their long-term strategy lies.
"Supermarkets have taken an ever greater share, but they too are now being hammered by the internet. They're interested in vast volumes of not very much."
Scottish publishers have a very limited presence in supermarkets.
"If the proposed Russian takeover of Waterstones goes through, I think it's almost certain that a very much smaller chain emerges. There's a great danger that whole towns and cities will no longer have bookshops in them."
How does discounting stack up in modern bookselling?
"If you're publishing fiction, it's almost always price-promoted.
"Discounts for shops are usually 50% to 60%, we pay for space - that is display, and that's a flat rate charge, for a set length of time, whether or not the book sells.
"The internet model is a cheaper way to do it. There are no returns, you can adjust pricing, you can use viral marketing. Terrestrial retailing is clod hopping by comparison."
"The threat is to the range, in that you cannot browse shelves. People go on to Amazon to shop, not for a pleasurable experience.
"It's an amazing site, and particularly amazing is the ability it gives you to access rare or obscure books from multiple different sources.
"It's a positive phenomenon. But what concerns me is the level of price predation.
"The net effect of their pricing policy is to drill into people's minds that Amazon will always be cheaper, whether that's true or not.
"They adjust prices daily, with an algorithm that reacts to demand. High street retailers can't do that."
Taking everything you've said into account, what does the next 10 years have in store for the industry?
"A lot of the publishing we do, and our colleagues do, is about the creation and maintenance of not just the national identity, but local identity in Scotland.
"What we are seeing, and the Scottish government has ignored this, is an increasing homogenisation of the market, and a fracturing of community, which makes it more and more difficult to publish books.
"For instance, it used to be easier to publish books about Glasgow than it is now, partly because the number of bookshops in Glasgow has dropped like a stone, but part of it is that people don't feel the same strength of identity that they used to.
"That's why the Highlands and Islands stands out.
"There are areas of Scotland which are almost black holes for books being published, and it's almost always the areas where local identity is weakest."
To hear more on this issue, listen to Radio Scotland's Business Scotland programme on the BBC iPlayer.
Related Internet Links
The BBC is not responsible for the content of external sites.