BAA's Scottish airports see rise in passenger traffic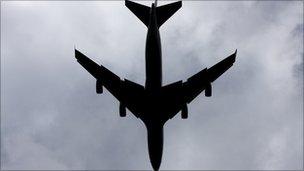 Passenger traffic at Scotland's three main airports grew in March by 5.8%, according to airport operator BAA.
Aberdeen led the increase, with 8.6% growth to 250,000 passengers. Edinburgh was up 7.2% to 720,000, and Glasgow rose 2.4% in March to 485,000.
However, all three airports were down on last year's traffic figures by 4.7%, more than the UK decline of 2.3%.
The rate of increase was higher than Heathrow, Stansted and Southampton airports, which are also owned by BAA.
The Scottish figures include 10% growth in links with continental Europe.
The figures comparing passenger numbers with April 2010 were affected by a British Airways strike last year, and by Easter falling earlier than in 2011, bringing some Easter holiday traffic into the March 2010 figures.
Colin Matthews, chief executive of BAA, commented: "The growth in traffic at our Scottish airports is encouraging.
"In the UK, consumer confidence remains fragile, affecting airports up and down the country. Continued rises in the price of oil are a concern for airlines and passengers in all our markets."
Passenger growth at Heathrow was up 2.3% last month, while at Stansted was down 7.4%. BAA said that was due to low cost airlines shifting their aircraft bases to the European continent.
The number of aircraft movements was up by more than 9% in Aberdeen comparing last month with March 2010, while in Glasgow they were up 5% and in Edinburgh by 2.3%. However, they were all down on April last year, by a combined total of 3.1%.
Related Internet Links
The BBC is not responsible for the content of external sites.