Erskine charity garden centre sales triple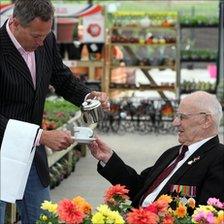 A Renfrewshire garden centre run by the veterans' charity Erskine has nearly tripled its sales to £1.5m.
The Erskine Garden Centre recorded the sharp rise after relocating to a more prominent site in Bishopton a year ago.
The centre is one of five social firms run by Erskine, which employ veterans and disabled people.
All proceeds from the centre and the adjoining Vanishing Willows Cafe go towards running Erskine's five care homes across Scotland.
The new purpose-built Erskine Garden Centre opened in May 2010, replacing a smaller centre in the heart of Erskine's Bishopton estate.
Erskine said sales soared as a result of the move, better branding and a partnership with celebrity chef Nick Nairn, who designs dishes for the Vanishing Willows Cafe.
The charity's chief executive, Maj Jim Panton, said sales were 50% higher than expectations and almost three times the previous year's total of £557,000.
He added: "We thought long and hard about the relocation of our garden centre and after careful planning decided to press ahead with the £3m investment.
"We were confident that it would be a success but sales to date have far exceeded what we thought was achievable."
The garden centre and cafe currently employ 33 workers between them.
Related Internet Links
The BBC is not responsible for the content of external sites.