Scottish unemployment rate drops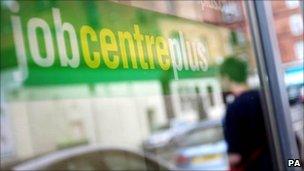 The number of people out of work in Scotland has fallen, according to official figures.
Unemployment in Scotland dropped by 7,000 to 219,000 between December and February, while the number of those in jobs now stands at almost 2.48 million.
Figures from the Office for National Statistics showed the unemployment rate was 8.1%, slightly above the UK average rate of 7.8%.
In the UK as a whole, unemployment fell by 17,000 to 2.48 million.
While the jobless total in Scotland fell on the quarter, it was 10,000 higher than the same quarter last year.
The unemployment rate fell 0.3% from the previous quarter but was 0.3% up over the year.
Meanwhile, the Scottish employment rate increased over the quarter to 71%, just above the UK average of 70.7%.
The claimant count in Scotland, based on the seasonally adjusted number of people claiming Job Seeker's Allowance (JSA), fell by 300 from February to 137,100 in March. The level was up by 1,300 on March 2010.
Michael Moore, the Secretary of State for Scotland under the Lib Dem-Conservative coalition, said: "These figures cover the period when the severe winter was hampering Scotland's economic activity, so it is heartening that we have still seen unemployment falling and employment rising.
"I welcome in particular, the second monthly fall in a row in the number of people claiming Jobseeker's Allowance."
He added: "At last month's Budget, the UK government announced measures to help create more private sector jobs in Scotland.
"We are cutting corporation tax, cutting employers National Insurance contributions and cutting regulation. Combined with our agreement that the high street banks will lend more to Scottish companies, this will help create jobs."
Welcoming the figures, First Minister Mr Alex Salmond said: "Today's figures present further signs that Scotland's economy is strengthening, and show the Scottish government's robust actions to support jobs, skills and training are delivering real results."
Mr Salmond said the data vindicated the SNP's "decisive action" to support jobs and stimulate investment by deferring last year's UK spending cuts, bringing forward work on infrastructure projects in 2008/09 and 2009/10, and maximising Scotland's capital spending budget.
He added: "But while today's labour market figures show further progress, we must continue to bring unemployment down.
"Scotland needs to secure further tools so that the UK government cannot risk the recovery we are building, or undermine the positive path the Scottish economy is taking."
Labour's finance spokesman Andy Kerr said: "Any signs of improvement are welcome but there are 10,000 more Scots out of work now than this time last year.
"That makes grim reading for those families blighted by the indignity of not having work.
"When the SNP came into power, Scotland had the lowest unemployment in the UK but as they leave office, unemployment is higher than the rest of the UK."
He added: "That is the legacy of the SNP's hands-off approach and is damning indictment of their complacency.
"With over 41,000 young Scots unemployed and the number out of work for six months rising, we need to redouble our efforts to stop another generation being written off."
Scottish Liberal Democrat leader Tavish Scott said: "Politicians don't create jobs, but we can create the conditions for businesses to thrive and take on new people.
"These figures are good news after a tough winter but they are a reminder that the new Scottish government needs to create the conditions for growth."
Scottish Conservative finance spokesman Derek Brownlee commented: "In the recent budget we secured a £10m package for small business, which will create 5,000 jobs across Scotland. But we can do more.
"Our aim is for 25% of local and national government contracts to be awarded to small and medium sized enterprises, which will help create the jobs of the future."
Related Internet Links
The BBC is not responsible for the content of external sites.