Scottish job vacancies 'three-year high'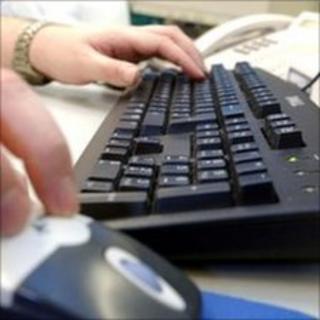 Demand for staff in the past quarter increased at its fastest pace for more than three years, according to the latest Bank of Scotland jobs survey.
The report also signalled a further improvement in Scottish labour market conditions during March.
The number of people placed into both long and short-term jobs rose as demand for new staff continued to grow.
Both permanent and temporary candidate availability rose last month, keeping pay inflation subdued.
Permanent placement was strongest in Glasgow, while Dundee had the fastest increase in temporary vacancies.
The Bank of Scotland labour market barometer - a composite indicator of labour market conditions - suggested staff demand was down on February's reading.
However, it was the highest quarterly reading since the first quarter of 2008.
Donald MacRae, chief economist at Bank of Scotland, said: "Recovery from the recession is extending to the labour market, with the demand for permanent staff rising at the fastest pace for three-and-a-half years.
Permanent staff appointments also increased for the sixth consecutive month, although growth eased from February's 14-month high."
He said all eight sectors covered in the survey registered a rise in permanent job vacancies during March, with the strongest increase occurring in the IT and computing sector.
Average salaries awarded to permanent staff increased only modestly.
Mr MacRae added: "This latest report on jobs provides further evidence of the recovery in the Scottish economy."