Oil industry to meet Chancellor George Osborne on tax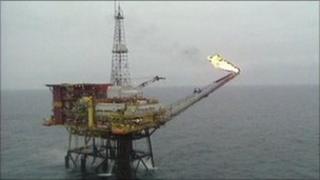 The body representing the UK oil and gas industry has met Chancellor George Osborne to discuss the Budget decision to raise North Sea taxes.
Oil and Gas UK held the talks on ways to minimise the damage it believes will be caused by the move, introduced to fund a cut in fuel duty.
Chief executive Malcolm Webb said the levy had shaken investor confidence.
The government raised the supplementary tax on North Sea oil production from 20% to 32% in the Budget last month.
Mr Webb said after the meeting: "Oil and Gas UK explained why both the unexpected nature and the scale of the increase has damaged investor confidence and will hamper investment, maximum recovery of the UK's oil and gas and job creation.
"Disappointingly, the chancellor has a different view.
"The Treasury has requested further discussion."
The industry claims tens of thousands of jobs in the UK could go as a result of the new tax.
A number of firms have said they are reviewing their North Sea investments.
Chevron became the latest to issue a warning earlier this week.