'Reality biting' for shoppers as retail sales plunge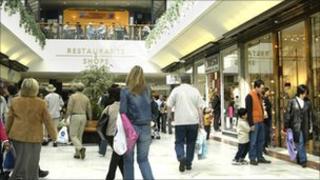 Retail sales in Scotland fell last month for the first time in more than a decade, according to the latest survey.
Figures from the Scottish Retail Consortium indicated total spend on food was up slightly.
But other spending fell - some of it sharply - as shoppers adjusted to reduced spending power as a result of inflation and falling real income.
The SRC said the survey results showed that "reality was biting" for Scottish shoppers.
Sales volumes for March were down 0.3% on the same month last year, the first drop since 1999.
Like-for-like sales last month were down 3.9% on March 2010, the biggest fall since January 2000.
The SRC said consumer confidence was still weaker in Scotland than in the UK as a whole, although both steadied in March.
Scottish Retail Consortium director Fiona Moriarty said: "Reality is biting for Scottish shoppers.
"People are increasingly nervous about the economy and their personal finances and are reluctant to spend unless they have to. Food sales have slowed markedly while non-food sales have seen a much steeper fall."
Lack of confidence
She said people in Scotland lacked the confidence to buy large items and were focusing on bargains instead.
In the non-food sector, like-for-like sales figures - which exclude spending in stores which opened or closed in the intervening year - were down 5.9% on last March.
Like-for-like food sector sales were down 1.7%.
David McCorquodale, head of retail in Scotland for KPMG, said: "The food sector results may be distorted this month because some of the Easter purchasing fell into March last year.
"However, while this year's later Easter may be a factor behind the drop of 1.7% in food sales, it doesn't mask the drop in volumes which have been offset to an extent by significant inflation in food prices."