Scottish economy shrinks by 0.4%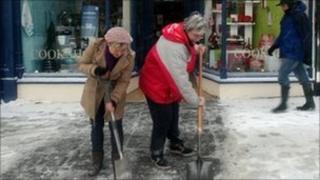 Scotland's economy shrank by 0.4% in the final three months of last year, according to official figures.
The National Statistics Publication for Scotland suggested the construction industry suffered the biggest fall in output of 2% from October to December.
The fall in GDP in Scotland in the last quarter was less than that in the UK as a whole which showed a drop of 0.5%.
However over the year, the Scottish economy grew by 0.8% - compared to the UK economy which grew by 1.4%.
During the last three months of 2010, services sector output in Scotland declined by 0.1%, the production industry fell 0.5% and manufacturing dropped by 0.6%.
The last three months of the year included periods of heavy snowfall which impacted on many businesses.
CBI Scotland's director, Iain McMillan, said the very poor weather in late November and December had "a significant negative effect" on the economy at the end of last year, as shown by falls in construction and logistics.
He added: "The recovery from recession was always likely to be bumpy, which makes it all the more important that the next Scottish government prioritises policies which promote trade, business investment and commercial innovation."
However, construction bosses cast doubt on the latest statistics, claiming they bore little relation to the "real world" facing their industry.
The Scottish Building Federation (SBF) took issue with figures which suggested a fall of 2% in the value of construction to the Scottish economy had been more than offset by the rises in output recorded in the preceding three quarters.
SBF chief executive Michael Levack said he found it "very hard to reconcile" the latest GDP figures with the reality many construction firms were facing on the ground.
"Private sector construction still has a mountain to climb to get back to anywhere near the rates of output it was showing two years ago - and with budgets being slashed, public contracts are drying up fast," he said.
"The drop in value of the construction sector in the final quarter of last year, shown by these figures, is a better reflection of the real world. Added to which, latest unemployment figures show 6,000 Scottish construction workers lost their jobs during that same period."
He added: "What is more, we have seen the number of firms becoming bankrupt rise by 11% at the close of 2010.
"If we examine the detail of these figures, I suspect they will show the construction industry contributing substantially to that rising trend."