Buying a house in Scotland 'cheaper than renting'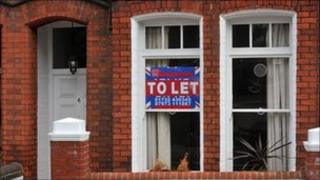 The monthly costs of being a homeowner in Scotland are now cheaper than renting, new figures have suggested.
In March, the average monthly cost of a three-bedroom home for a buyer with a mortgage was £514, compared with £531 to rent the same property.
Research by Bank of Scotland found that in 2008, homeowners paid £895 a month on average, whereas tenants paid only £564 rent - a difference of 59%.
The bank said the change was due to a decline in average mortgage rates.
According to the banking group, the mortgage rate for a new borrower fell to an average of 3.59% from 5.82% in March 2008, helping to reduce the average monthly mortgage payment by 38%.
The bank's housing economist, Suren Thiru, described the improvement in the affordability of buying relative to renting as "significant".
Potential buyers
He said: "Such a marked decline in mortgage costs has improved affordability for those able to enter the market as well as helping to ease the pressure on existing homeowners' disposable income.
"Although the current trade-off between buying and renting is expected to narrow when interest rates start to rise again, the long-term benefits associated with investing in bricks and mortar are likely to ensure that buying will continue to be viewed favourably by many."
The research also found that across the UK, average buying costs were about 14% lower than the cost of renting.
However, the tightening in lending criteria since 2007 has resulted in many potential buyers not attempting to enter the market, the bank said.
The Bank of Scotland review tracks changes in the cost of buying and renting a three-bedroom property across the UK over the past three years.
Average homebuyer costs include mortgage payments, household maintenance, repairs, minor alterations and insurance costs.