Stagecoach firms given formal warnings over wheel-loss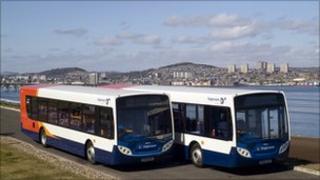 Three Stagecoach bus firms have been handed formal warnings by the traffic commissioner over wheel-loss incidents and adverse vehicle inspections.
The warnings for Stagecoach Perth, Stagecoach Fife and Stagecoach Glasgow followed a public inquiry held by the commissioner last month.
A condition was placed on the licence of a fourth firm - Stagecoach Strathtay - to prevent it expanding.
The news came as the group announced it was expanding its budget bus services.
The Traffic Commissioner for Scotland, Joan Aitken, called Stagecoach Perth, Stagecoach Fife, Stagecoach Strathtay and Stagecoach Glasgow to a public inquiry in Edinburgh on 1 and 2 March after a series of wheel-loss incidents and adverse reports from Vosa vehicle examiners.
The inquiry heard that since 2009, there had been a total of eight wheel-loss incidents between the Stagecoach Glasgow (one), Stagecoach Perth (three), Stagecoach Fife (two) and Stagecoach Strathtay (two).
In her findings, Ms Aitken said: "Wheel-loss incidents are of great concern to me. They have the potential to cause serious damage including death and injury and also damage to property.
"To the spectating public or those who suffer injury (in this case very fortunately there were no instances of anyone being hurt), they appear as self-evident failures of maintenance."
However, the commissioner commended Stagecoach for their incident investigations.
She added: "There was overwhelming evidence of managers and directors at national level monitoring local performance and incidents, and in the audit process there appeared to be a genuine attempt to find out for the directors what was going wrong or had gone wrong rather than cover up."
Ms Aitken issued formal warnings to Stagecoach Perth, Stagecoach Fife and Stagecoach Glasgow.
She also placed a condition on the licence of Stagecoach Strathtay, preventing any increase in the current authorisation of 160 vehicles for four months.
'Absolute priority'
In a statement, Stagecoach said the safety of its passengers and staff was its "absolute priority", and all its vehicles were subject to a strict maintenance regime beyond what was required by law.
It continued: "While none of the incidents involved resulted in any injuries to passengers, we took them extremely seriously and carried out a detailed and thorough investigation into each case.
"Disciplinary action was taken where there was a failure to follow our strict safety processes. In addition, we worked closely with one of our main bus suppliers, Optare, who have subsequently reviewed and updated the guidelines issued in relation to wheel torque settings.
"We fully accept the decision of the Traffic Commissioner and are committed to implementing her recommendations."
Stagecoach added it would continue to keep its safety arrangements under review and put in place any further measures that were necessary.
Routes expansion
In a separate development, Stagecoach announced it was expanding its budget bus services to more locations across the UK.
The group confirmed it would put on additional Megabus journeys from Perth and Edinburgh to Newcastle, Sheffield and London and an extra daily journey from Aberdeen to London.
It will also start a new link between Edinburgh and Leeds when it launches its new timetable on 23 May.
The firm said it was responding to rising demand for budget coach links.
The expansion means Megabus now serves more than 60 locations across the UK.
Stagecoach Group chief executive Brian Souter said: "Our budget services are continuing to attract more and more people looking for an affordable, reliable and greener travel alternative."
Last month, the group reported a rise in ticket sales across its operations.
It said rail income rose by 6.9% in the previous 10 months, with figures rising by 12.6% at Virgin Rail, in which Stagecoach has a 49% stake.