Japan earthquake power supply deal nets Aggreko £60m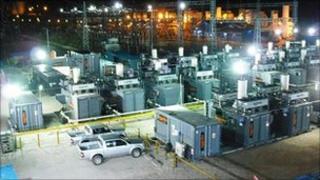 A Glasgow-based temporary power company's deal to supply earthquake-struck northern Japan has been been priced at $100m (£60m).
Aggreko agreed to supply power to areas of Japan worst hit by the earthquake and tsunami.
Originally a letter of intent, the agreement to supply 200MW to the Tokyo Electric Power Company (TEPCO) is now a formal contract.
The company also announced its chairman would step down in a year.
Phil Rogerson, who has been on the Aggreko board for 15 years, with 10 years as chairman, will be replaced by Ken Hanna, who joined the board last October, and is currently chairman of car retailer Inchape plc and a non-executive director of Tesco.
Mr Rogerson said: "Although I greatly enjoy my role with Aggreko, I believe there comes a time when a change of leadership is appropriate.
"We have chosen to announce this change now in the interests of ensuring and effective and transparent process of succession."
Global growth
Following the announcement about the Japan deal, Aggreko said it was further boosting its investment in a new plant, for assembly at its Dumbarton factory where 300 people work.
The company's chief executive, Rupert Soames, said there had been a strong order intake and a healthy pipeline of inquiries about hiring power units.
Capital expenditure is to grow by a further £70m in the second half of this year, bringing the 2011 planned total to £390m.
New business has come from the Bahamas, Argentina, Oman and Indonesia, with underlying revenues in its local division in North America up by 33% in the first quarter, and Australian business growing particularly strongly.
New service centres have opened in Durban, Lima and Delhi.
The trading statement said the positive figures were despite political instability in some of Aggreko's markets, which include Middle East countries.
Some of the performance figures are subdued by comparison with the start of last year as Aggreko is not benefiting from the one-off gains from the Vancouver Winter Olympics, the build-up to the FIFA World Cup in South Africa and the Asian Games.