Wolfson brushes off chip worries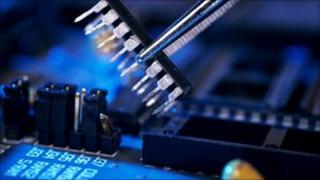 Wolfson Microelectronics has brushed off worries about a global microchip shortage and said it had been unaffected by events in Japan.
The Edinburgh chip maker said its facilities in Japan were not hit by last month's earthquake and tsunami.
Many electronic components are manufactured in Japanese factories.
Wolfson said it was hard to predict the "direct impact to customers as a result of potential raw material or component shortages".
The company said it was monitoring the situation closely.
The comments came as Wolfson announced a 44% increase in revenues to $41.1m (£24.8m) in the first three months of this year.
The company also cut its pre-tax losses to $3.5m (£2.1m) from $6.9m (£4.2m) a year before.
Wolfson said during the first quarter it had undertaken new projects with existing companies including LG and Samsung.
It also won a number of new clients including Research in Motion (RIM) which selected a Wolfson audio chip for its recently launched BlackBerry PlayBook tablet PC.
Mike Hickey, chief executive of Wolfson, said: "The growth momentum we achieved last year has continued into the first quarter of 2011 with revenues up 44% year-on-year.
"We are also pleased to report that last year's record design-in performance has continued with over 100 new design-in successes during the quarter."
He added: "Our audio solutions are being increasingly adopted by existing and new customers in mobile phones, particularly smartphones, tablet PCs and gaming, driving excellent growth across these applications."