Tata Steel to invest £8m in its Clydebridge plant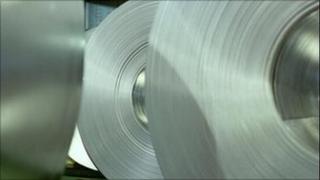 Indian steel giant Tata Steel has announced an £8m investment at its Clydebridge steel processing plant near Glasgow, creating 26 jobs.
The company said the investment would boost output from the specialist plant in Cambuslang by up to 50%.
Workers at Clydebridge carry out two processes - quenching and tempering - which strengthen steel plate.
The investment includes expanding the plant's furnaces and installing new machinery.
Jon Bolton, director of Tata Steel's Long Products Hub, said: "This investment supports our ambition to focus on making premium products for profitable markets."
He added: "Steel demand is not back to what it was before the recession - different sectors have recovered at different rates.
"But we will continue to invest to enhance our capability in manufacturing specialist and highly-technical steel products."
The investment follows the announcement in August of an £8m cash injection in new equipment at Tata Steel's nearby Dalzell plate rolling mill in Motherwell.
The recruitment at Clydebridge will start in Spring next year, prior to the expanded capacity coming on-line in summer 2012.
About 100 people are currently employed in Clydebridge, with a further 230 in Dalzell.