Sparkling success for Highland Spring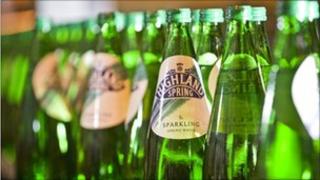 Perthshire-based bottled water company Highland Spring has reported an 8% increase in sales of its sparkling water for 2010.
The company achieved a 14.1% share of the sparkling water market last year, its highest ever figure, according to industry expert Zenith.
The trend has continued into 2011, with value up 12% and volume up 15%, according to new figures.
Highland Spring Group is the UK's largest producer of bottled water.
The total packaged water market showed continued growth in 2010 - up 2.4% by volume.
The sparkling water sector experienced stronger growth, up 5.4%, to reach its highest share of the market in recent times, at 14.4%.
Sally Stanley, group marketing director of Highland Spring Group, said: "The sparkling side of our business is thriving.
"We have invested heavily in ensuring our sparkling range remains the market leader and are looking forward to another strong summer performance."
The Highland Spring Group, which bottles more than 350 million litres of water a year, produces brands including Highland Spring, Speyside Glenlivet, Hydr8 and Gleneagles.
The group, which is based in Blackford, Perthshire, oversees five bottling plants and employs more than 400 staff.
It has a current production capacity of more than 700 million litres of water a year and has an available resource in excess of 2.2 billion litres a year.