Aberdeen Asset Management sees profits double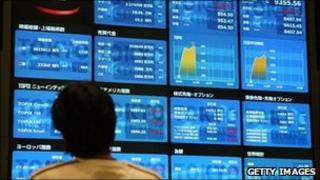 North east investment firm Aberdeen Asset Management has reported a near doubling of pre-tax profits.
The company made £109m in the six months to the end of March, up from £59m for the same period in 2010.
Assets under management grew to £181bn from £176bn at the end of February, ahead of expectations.
The company said that demand for its Asia Pacific, emerging market and global equities products "remained strong" but it warned of "volatility".
Martin Gilbert, chief executive of Aberdeen Asset Management, said: "Macro events in recent months have generated significant volatility in global markets and this looks set to continue.
"The company's results for the half year were better than many analysts had forecast and the share price rose on the news."
Mr Gilbert said the increase in business for his company was down partly to the poor returns offered elsewhere.
He told BBC Scotland: "With interest rates at all-time lows, people are shifting into equities to get the dividend income - if you're only getting 0.5% in a bank account, you can shift to a share which is getting 4% or 5% - so people are being forced into buying equities to a certain extent."
He added: "Our problem is we're getting too much money in - we can't actually invest it, so hence the reason we're closed to business, we're actually not taking any new money."