North Sea oil firms form strategic partnership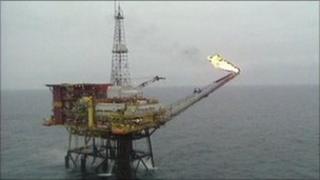 Two oil firms have formed a strategic partnership in order to pursue opportunities in the North Sea.
Aberdeen-based DEO Petroleum and London-based Parkmead Group will collaborate on a 50/50 basis in three central North Sea areas.
The firms will also look at joint acquisition opportunities in specific locations.
Parkmead executive chairman Tom Cross described the partnership as a "win-win" for both companies.
DEO currently holds a 42% interest in the Perth licence area of the central North Sea and was appointed operator in December 2010.
The collaboration arrangements will initially last until December 2013.
In addition to working together in the anticipated UKCS (UK Continental Shelf) 27th licensing round, Parkmead and DEO are also looking at joint acquisition opportunities in identified areas.
The parties have also agreed - subject to regulatory approval - that during application, bidding and exploration phases, Parkmead will act as exploration operator for the partnership, while DEO will assume the role of development operator following commercial discovery.
Mr Cross said: "This strategic partnership is a win-win for both companies and we are very pleased to be working with DEO, whose core skills are entirely complementary to Parkmead's.
"Our combined teams share a deep understanding of the North Sea and this collaboration will allow both companies to create and accelerate significant value for our respective shareholders."
DEO chief executive David Marshall added: "The strategic partnership offers DEO the opportunity to expand into areas beyond our core Perth assets, where our existing relationships are strong and unchanged.
"Parkmead is particularly knowledgeable about opportunities and assets in this region. DEO's core expertise in development and production makes this a very strong joint venture grouping.
"Together, we can bring the full range of skills to the life cycle of prospective oil and gas assets."