Bus firm Stagecoach invests in green engines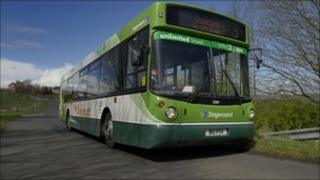 Perth-based transport group Stagecoach has said it is spending £500,000 on greener engines for its buses.
The company will spend the money over the next year fitting some of its "mid-life" buses with the engines which reduce fuel consumption by 25%.
Stagecoach is investing £11m in measures to meet its environmental targets over a five year period.
The firm said all those measures together would save a total of 150,000 tonnes of CO2 emissions.
Stagecoach UK bus managing director Les Warneford said: "We believe that by continuing to invest in new technology and greener measures, as well as encouraging a more bus-friendly approach in towns and cities, we can attract even more people on to our greener, smarter bus services."
Over the past year, Stagecoach, has placed orders for 142 hybrid electric buses which produce 30% less carbon emissions than standard buses.
It also introduced a Bio-Bus which is fuelled by chip fat, with passengers getting a discount for bringing long some discarded oil.