Scottish house prices return to 2007 levels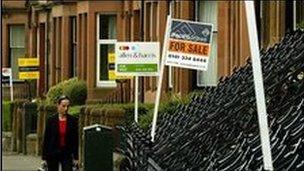 Scottish house prices are almost identical to those of four years ago, according to Lloyds TSB Scotland.
The bank's Scottish house price monitor showed that while the average price rose 2.4% last year, in the first three months of 2011, prices fell by 3.6%.
The data also showed that the number of housing transactions in the Scottish market was about half that of pre-recession levels.
The average Scottish house price now stands at £153,335.
The most expensive property was in Edinburgh, where the average price of a home was £216,003.
The Central/Fife/Perth/Tayside areas featured at the bottom of the table, where the average cost was £130,293.
For the market as a whole, Scottish house purchases in March 2011 were 3.1% less than in March 2010.
However, the number of transactions in March was 42% up on the previous month.
Donald MacRae, chief economist, Lloyds TSB Scotland, said: "Most indicators, including the Bank of Scotland PMI, point to a resumption of growth in the first quarter of this year."
But he said that consumer confidence had fallen due to high levels of retail price inflation in excess of the increases in earnings.
He added: "The slow recovery from recession is being expressed in the housing market, principally through low levels of sales and a return to the prices of four years ago."
Related Internet Links
The BBC is not responsible for the content of external sites.