Scotland's waste business booming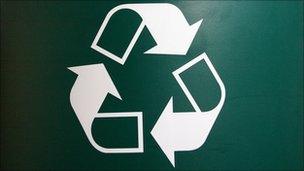 Scotland's waste business is booming and opportunities are increasing, according to those in the industry.
The most recent figures available from the Scottish Environment Protection Agency (SEPA) show that the amount of waste going to landfill fell from 6.1 million tonnes in 2008 to 4.7 million tonnes in 2009.
The recycling and composting rate for local authority collected municipal waste in Scotland during 2009/10 was 36.7%, with the latest figures to be announced by SEPA in June.
Many waste companies have announced developments to their businesses in the past year.
Avondale Environmental recently said it would develop a £17m recycling centre near Grangemouth to process 200,000 tonnes of waste annually.
Last December, plans for a £200m energy from waste plant in Dunbar, East Lothian were given the go-ahead by Scottish ministers.
And in September, Scotland's largest organic recycling facility - which converts food waste into electricity - was officially opened in Cumbernauld.
Grant Keenan runs Keenan Recycling in Aberdeenshire, which recycles food and garden waste, and said he did not realise how big his business was going to get.
He said: "Once householders in Aberdeen were issued with the brown wheelie bins - about 60, 000 of them - it then started to grow into a worthwhile business.
"Once we had that established we looked at what legislation was coming in and it was obvious that food waste was going to be the next big thing."
For Grant Keenan it's a "win-win situation".
He added: "It's a good business, it's good for the environment, it's good for the local economy - we're certainly swimming with the tide."
Philip Johnstone is chief executive of S3 Interactive based in Clydebank. His business bucked the trend during the recession and increased a£4m turnover to £15m.
"I think people actually look at the waste now," he said.
"Instead of stuff lying around they want to deal with it more and they look at the costs a lot more.
"So that's where we came in - we were adding a lot more value recycling the devices and getting them a very good return for the stock."
In June 2010 the Scottish government unveiled a multi-billion pound plan to create a "zero waste" society by the year 2025.
Environment Secretary, Richard Lochhead, said it was time to tackle nearly 20m tonnes of waste currently produced by Scotland every year.
The zero waste plan included tough new recycling and landfill targets to be met over the next 15 years.
Some environmentalists have expressed fears that the targets could lead to the construction of a wave of new incinerators.
A 70% target was set for all waste to be recycled by 2025 and a maximum 5% target for all waste to be sent to landfill by the same year.
Ian Gulland, director of government-funded body Zero Waste Scotland, said the focus needed to be on businesses processing materials once they've been collected - and to stop shipping waste out of Scotland.
He said: "We're well aware of the pressures in terms of global commodities - oil and metal and plastics - that goes for the materials and the waste treatment.
"They've got a value now and it is much more apparent, in terms of a business model, to take these materials out and do things here in Scotland. Now we can see the potential of these opportunities."
Related Internet Links
The BBC is not responsible for the content of external sites.