North Sea oil and gas production 'slows'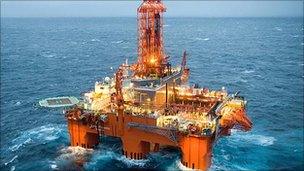 North Sea oil production has shown its biggest quarterly decrease since records began more than 15 years ago.
The update, from the UK government's Department of Energy, recorded a drop in the quarterly figures of just over 15%.
The government said the decline stemmed from maintenance work and slowdowns in a number of fields.
It comes as industry leaders have warned a budget tax hike could threaten some major North Sea projects.
The Oil and Oil Products report for the start of 2011 said: "Indigenous crude oil production in the three months to March 2011 was 15.6% lower compared with the same period a year earlier. On a quarterly basis, this is the biggest decrease since quarterly records began in 1995.
"The decrease stems from significant falls in production in February and March 2011 because of maintenance work and slowdowns on a number of oil fields."
Gas production fell by 17.6% on the same period last year, which the government said was a reduced demand for gas for electricity generation and the mild weather.
A DECC spokesman said: "The first quarter drop in North Sea crude oil production this year is due to maintenance issues and faults with North Sea infrastructure.
"Production figures for April are expected to show these problems have been resolved and production has returned to normal levels.
"Gas production has been affected by these infrastructure issues but a reduction in gas demand for electricity generation has also had a significant impact."
An Oil and Gas UK survey released on Thursday warned that its members suggested 60 out of 240 potential projects had less of a chance of going ahead since the chancellor raised the supplementary tax on North Sea oil production from 20% to 32%.
Related Internet Links
The BBC is not responsible for the content of external sites.