Scotland's first sunshine farm planned for East Lothian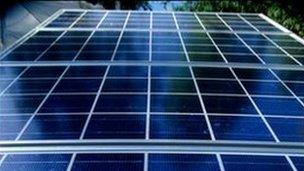 A development company has submitted planning proposals to build Scotland's first sunshine farm in East Lothian.
Hallhill Developments hopes to build a solar energy farm - capable of generating up to three megawatts of electricity.
The capacity of the proposed site would be enough to power the equivalent of 900 households.
Met Office figures indicate that East Lothian enjoys more than 1,400 hours of sunshine on average per year.
The proposed site is on land between the A1 and the east coast railway line with a nearby National Grid connection.
Ken Ross, chairman of Scots Renewable Energy who is advising Hallhill, said: "Given East Lothian's sunny micro-climate, a solar energy farm would be the best option and would make this one of the first in Scotland."
He added: "This will be part of the first phase of a Renewable Energy Park for Dunbar.
Related Internet Links
The BBC is not responsible for the content of external sites.