Toronto trip brings in £1m of trade for Glasgow firms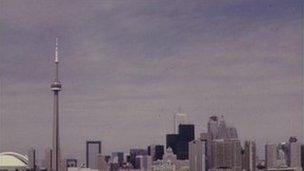 A trade mission to Canada looks likely to bring in orders worth more than £1m for small businesses in Glasgow.
Seven companies took part in the visit to Toronto last month, which was organised by trade body the SCDI.
The mission immediately secured £215,000 worth of business, and that is expected to rise over the next year.
SCDI chief executive Lesley Sawyers said: "The success of the visit demonstrates the importance to cities of developing international networks."
She added: "Glasgow has always been a trading city and it is encouraging to see so many small businesses building new contacts in Toronto."
The trip was funded and led by Glasgow City Council.
Lord Provost Bob Winter said: "The trade trip has proved a big success and I know everyone involved is thrilled with their orders.
"Toronto and Glasgow have historical and cultural ties as well as common economic interests."
Related Internet Links
The BBC is not responsible for the content of external sites.