IT firm Iomart warns of cloud 'hype'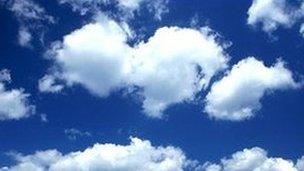 Internet web hosting firm Iomart has reported a sharp rise in pre-tax profits, coupled with a warning to companies to ensure they use reliable hosting services.
Pre-tax profits for the Glasgow-based company more than doubled to £2.8m, up from £1.3m the previous year.
The group also reported a 38% increase in revenue to £25.3m for the year to March 2011.
Iomart won 400 new orders during the year, many from existing customers.
The company said, by eliminating some one-off items in the previous year, profits actually increased by more than 600%.
Cloud computing uses distant servers to provide services which were traditionally done with software installed on individual computers.
Iomart provides internet services for some of the UK's biggest businesses, including Stagecoach and BT.
Angus McSween, chief executive of Iomart Group, said: "Cloud computing has become something of a buzz word with many companies adding the 'cloud' tag to everything they do, without backing it up with reliable delivery mechanisms.
"At Iomart we have built our technologies from the ground up specifically to be delivered via the cloud."
He added: "As a result, we are becoming recognised as an authority on the provision of cloud-hosting solutions and are well positioned to take advantage as the market evolves and people look for reliable vendors."
Iomart was founded in 1998, starting out as a telecoms and internet service provider.
The company employs about 200 people at various sites throughout the UK.
Related Internet Links
The BBC is not responsible for the content of external sites.