Hundreds of jobs go at Haldanes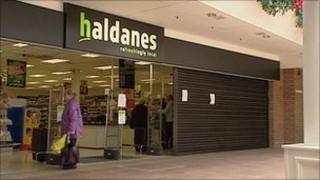 The supermarket chain Haldanes has told workers that it is to close most of its stores with the loss of hundreds of jobs.
The group has 26 shops in the UK, 13 of them in Scotland and it employs 600 people.
It is understood four stores may be sold off and the remaining will close on 14 June.
One worker told the BBC that he had only just been given the news and would get one week's wages.
Haldanes was launched less than two years ago and was the first new supermarket chain in the UK for 27 years.
Arthur Harris, chief executive of Haldanes Stores, confirmed in a statement that he had called in the administrators and said he was devastated at taking the step.
He added: "Our thoughts are with our employees who find themselves facing an uncertain future, we would like to publicly thank them for their efforts and loyalty during their time with Haldanes.
"We will work closely with the administrator and do our utmost to secure the future of a group of stores in the Haldanes estate."
Denied charges
Haldanes bought most of its stores from the Co-operative group, which was forced to sell some shops by the Office of Fair Trading following its acquisition of Somerfield.
Last month Haldanes said it had started legal proceedings against the Co-op because it claimed it had "breached key terms of the agreement".
Haldanes said if it had been aware of the trading performance of these shops, it would not have bought them.
Mr Harris said: "We firmly believed that the Co-op would at least sit down with us and hear what we had to say, but they have chosen to either ignore or refuse all of our requests to meet. This has left us with nowhere else to go."
The Co-op has denied all the charges against it and revealed it had taken action against Haldanes for non-payment of rent.
A spokesman for the group said: "Haldanes is substantially indebted to the group due to its failure to pay rents owing to us.
"We have acted in good faith throughout our dealings with the business, including providing significant financial support during its start-up phase."
He added that the Co-operative had been approached by Haldanes to provide "further financial support" but "regrettably" decided it could not.
He said the Co-op would vigorously contest any legal action.