Faroe Petroleum to abandon Lagavulin well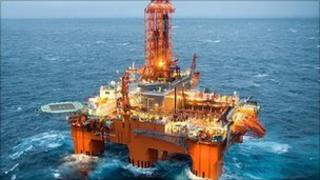 Aberdeen-based oil explorer Faroe Petroleum has decided to abandon a well west of Shetland.
Faroe shares the Lagavulin well with the oil giant Chevron.
After drilling nearly a mile down in an operation that has lasted nine months, the company said it had not uncovered any workable reserves.
Chief executive Graham Stewart said it was a "high risk frontier exploration well" which would have offered a "material upside" if successful.
If Faroe had been successful, it would have been the biggest strike in the area for a decade.
The project encountered a number of difficulties.
Progress was slow "due to a number of operational and technical challenges, notably poor weather conditions and variable drilling formation".
That cost the company more than it had anticipated.
Future plans
Although Faroe uncovered no significant reserves which made the well viable it said "hydrocarbons and a working petroleum system have been confirmed".
The company said its experience with Lagavulin would help future operations.
Mr Stewart said: "Whilst the outcome of the well is a disappointment, the presence of hydrocarbons has however now been proven and offers encouragement to continue our deep water exploration plans in the region.
"The group is well funded and, despite the cost over-run on Lagavulin, none of our forward drilling programme will be impacted."
Faroe said it had 17 firm, fully funded and expected wells in its schedule over the next two years.
Shares in Faroe Petroleum dipped 11% in early trading on the news.