Mixed results for Scottish jobs market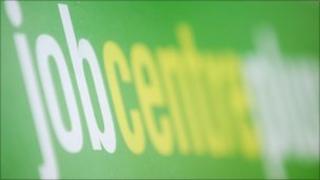 Official labour market figures have presented a mixed picture with the number out of work down, but the claimant count is up.
In the three months to the end of April, the number of people who were not in work fell by 10,000 to 207,000.
However, in separate figures released at the same time, the number of people claiming benefits rose by 1,200.
Secretary of State for Scotland Michael Moore described the rise in the claimant count as "disappointing".
He added: "The fall in unemployment over the three months to April is welcome news but we recognise these are challenging times for the Scottish labour market."
The number of people economically active in Scotland, which counts those who are in work or available for work, also fell by 16,000 and now stands at 2,680,000.
The unemployment rate stands as 7.7% - the same as the UK as a whole.
The finance and employment secretary, John Swinney, said the Scottish employment rate was above the UK as a whole, and the economic inactivity rate also remained lower than the rest of the UK.
He added: "While I welcome continued falling unemployment, there can be no grounds for complacency and more needs to be done to support jobs, secure investment and boost economic activity across Scotland.
"That is why this government is seeking new job-creating powers in the Scotland Bill, so that we can do more to support economic recovery and advance the interests of the people and economy of Scotland."
The Scottish Chambers of Commerce (SCC) said Scotland's job market could now be at a crossroads.
Chief executive Liz Cameron said: "On the one hand, the private sector is picking up and new jobs are being created, or part-time jobs are being converted to full-time roles.
"On the other hand, we are only just beginning to experience the effects of contraction in the public sector as a result of spending cuts.
"The remainder of 2011 will be crucial in determining whether private sector growth will be enough to match public sector contraction in Scotland."
In the UK as a whole, unemployment fell by 88,000, between February and April taking the jobless total to 2.43 million, the biggest quarterly fall for a decade.
However, once again the number of people claiming Jobseeker's Allowance (JSA) jumped by 19,600 last month to 1.49 million, the worst figure for more than a year.