Cairn Energy announces board reshuffle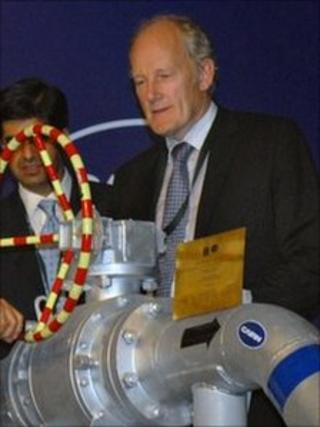 Sir Bill Gammell is to step down as chief executive of Cairn Energy to become non-executive chairman under a major board reshuffle.
Sir Bill, who founded Cairn in 1980, will replace current chairman Norman Murray, who is leaving the board after 12 years.
Legal and commercial director Simon Thomson will take over the role of chief executive.
The changes will take effect from 1 July.
The board reshuffle will also see chief operating officer Malcolm Thoms and group engineering and operations director Philip Tracy stand down.
A spokesman for Edinburgh-based Cairn said the changes had been "considered for a while and now was thought to be the right time".
Mr Murray said: "After 12 years on the Cairn board, nine as chairman, it is now time to turn my attention and energy to new challenges including my role as chairman of the board of Petrofac, the international oil and gas facilities service provider."
Sir Bill said: "Norman Murray has contributed enormously to the growth of Cairn during this time and has provided me with constructive challenges, wise counsel and valuable guidance.
"Simon has been with Cairn for 15 years and has played an instrumental role in accessing the opportunities that Greenland offers the company as well as in the delivery of value from Cairn's interests in India.
"I'm delighted that he has agreed to lead the company in the next stage of its development."
The company said Sir Bill would continue as chairman of Cairn India and would retain overall responsibility for the sale of Cairn Energy's Indian assets to mining giant Vedanta in a deal worth nearly $10bn (£6bn).
Cairn has been stalled for 10 months in its attempt to sell a controlling stake in Cairn India. There was a further delay on Thursday, when an expected decision on a disputed deal was not discussed by the Indian government cabinet.
The deal has been awaiting clearance from the New Delhi administration. It owns most of ONGC, which has a 30% stake in Cairn India's major oil field in Rajasthan.
It was agreed in 1995, before oil had been found, that ONGC would pay all the royalties on any finds in the desert. But it is now trying to change the terms of that arrangement.
There is disagreement between different departments of the New Delhi government over how the dispute should be handled, and there have been repeated postponements.
It is reported that the cabinet may now discuss the issue next week.
Since Sir Bill founded Cairn Energy in 1980, the company has grown in value from $10m (£6m) in 1992 to over $10bn (£6bn). Cairn's share price has increased over 100-fold during this time.