Lloyds TSB business survey finds economy recovering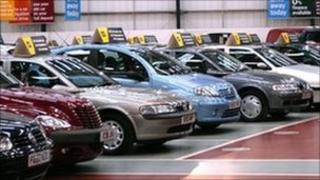 Scotland's economy is continuing to recover with businesses reporting the most positive results in three years, according to a survey.
The latest Lloyds TSB Scotland Business Monitor found a third of firms reported increased turnover in the three months to the end of May.
But rising costs and falling consumer confidence were still a concern.
Donald MacRae, chief economist at Lloyds TSB Scotland, said the economy was "slowly strengthening".
A recovery in the middle of 2010 was followed by a relapse in growth early in the year, attributed largely to the severe winter weather.
However, the latest figures showed that 33% of the firms surveyed enjoyed increased turnover in the three months to the end of May.
A total of 36% reported static turnover, while 31% experienced a decrease.
Expectations of improving trade over the next six months were at their highest level for more than three years.
Cost pressures
Just over three out of ten - 31% - of businesses said they were hopeful of boosting turnover over that time.
However the report warned this was around a fifth of pre-recession levels, indicating a "fragile" recovery.
And cost pressures remained a concern for Scottish firms, with 62% experiencing increases in the last quarter, the highest level recorded in almost three years.
Low levels of new car and house purchases in the first quarter of the year were also said to be an indication of falling consumer confidence.
Mr MacRae said: "These are the most positive business monitor results in three years and contrast sharply with the previous quarter which was badly affected by the severe winter weather conditions.
"Our economy is slowly strengthening as company turnovers increase and the employment situation improves.
"However the economy remains fragile as consumer spending is constrained by low confidence as a result of rising inflation, which is squeezing disposable incomes."