Firms urged to act over growth in mountain biking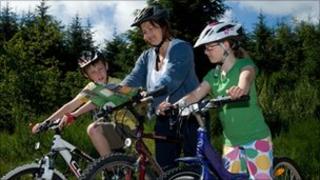 Scottish companies are being urged to take advantage of a predicted 30% growth in mountain biking in Scotland over the next five years.
The call was made by Tourism Intelligence Scotland (TIS), a joint venture by Scottish Enterprise, Highlands and Islands Enterprise and VisitScotland.
TIS said the activity already generated £119m a year for the Scottish economy.
Market share is predicted to increase to £155m in the next five years.
TIS has produced a new guide on mountain biking tourism which offers intelligence on the sector as well as advice on how to cater for cyclists' needs.
It suggests accommodation providers could stock basic bicycle repair items, offer secure bike racks and cleaning facilities, and print off daily weather forecasts for guests.
Other tips include providing energy-boosting packed lunches and snacks, and offering flexible meal times to cater for riders who have had an early start or been out on day trips.
Katrina Morrison, from Scottish Enterprise said: "Mountain biking is so much more than a niche market for adrenalin-junkies.
"The idea of a healthy adventure activity, where you can just pick up your bike and go, has grabbed the imagination of the mass market.
"With significant growth predicted over the next few years, this is a fantastic time for tourism businesses to get involved and grab their share."
'Raising the bar'
Scottish Enterprise said recent figures showed more than 1.3 million visits are made to Scotland each year for mountain biking - nearly 600,000 of which were to purpose-built trails, such as the 7stanes in the south of Scotland.
Andy McKenna, owner of Go-Where Scotland, a mountain bike tour, guiding and transport business based in the Scottish Borders, said: "If we're to capitalise on the undoubted opportunities the growth in mountain biking will bring, we need to work together, share best practice and really raise the bar as a country."
The Mountain Biking Tourism in Scotland guide has been published by TIS as part of its Opportunities for Growth series.
Other guides in the series include Scottish Tourism in the Future, Walking Tourism, Golf Tourism and Adventure Travel.