Sir Brian Souter in buy-out of Turkish ferry operator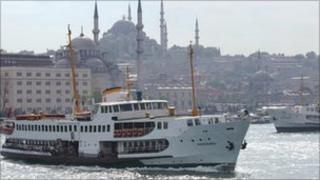 Stagecoach transport mogul Sir Brian Souter has led a buy-out of Istanbul's main ferry operator for £528m.
The sale by the Turkish city's government includes 52 vessels that transport more than 50 million people each year, across the Bosphorus and around the Sea of Marmaris.
The chief executive of Stagecoach transport group used his investment company to lead the buyout.
His investor group has a 30% stake in Istanbul Deniz Otonuslen (IDO) ferries.
Souter Investments is partnered by Ann Gloag, Sir Brian's sister and co-founder of Perth-based Stagecoach, Edinburgh financier Sir Angus Grossart and three Turkish-based companies, including the operator of the country's largest airport.
The sale, denominated in US dollars at $861m, includes 25 sea buses, 19 fast ferries and 17 conventional ferries.
There are nine inter-city and five inner-city lines serving 35 piers, with sales last year of £142m.
'New heights'
Newly-knighted Sir Brian said: "I am confident we will take IDO to new heights of success by improving everything from fast ferry frequency to catering.
"Our goal is to ensure motorists opt for seabus and ferry transportation, rather than making long and frustrating road journeys in and around the congested Istanbul road network."
Souter Investments also owns two urban bus companies and a ferry operator in New Zealand.
Last week, the investment firm launched a new express coach service between Berlin, Bratislava, Prague and Vienna.
Souter Investments extend to stakes in yacht-builder Sunseeker International, insurance company esure and the price comparison website gocompare.com.
Other competitors for the IDO ferry operator included international ferry operator Stena and Turkey's largest conglomerate, Koc Holding.