Scottish airports in aviation tax call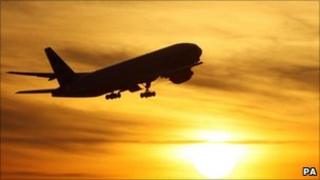 Operators of Scotland's largest airports have called for aviation taxes to be devolved to Holyrood.
The owners of Aberdeen, Edinburgh, Glasgow and Prestwick airports said control from Scotland would allow the government to cut tax and help the tourism industry.
The move has followed a sharp increase in the air passenger duty (APD).
APD is currently set by Westminster and is one of the highest passenger taxes in the world.
The Calman Commission, which considered reforms of home rule for Scotland, recommended that air passenger duty should be devolved.
It has not been included in the Scotland Bill, now going through Westminster and devolving other tax powers, but the UK government is consulting on its future.
The airport owner - BAA, which controls Scotland's three busiest airports and New Zealand-based Infratil, which owns Prestwick - assume the Scottish government would use tax powers to reduce passenger duty.
BAA cited research it commissioned and published in January, that estimated the impact of the UK's increase in APD would be a 1.2 million passenger reduction over the next three years, mainly on domestic flights, and a £77m loss in tourism revenue.
Amanda McMillan, managing director at Glasgow Airport, said: "If the aviation industry is to continue to play an active role in generating employment, encouraging export-led growth, supporting tourism and attracting inward investment, then it cannot be subjected to any further increases in APD.
"Due to Scotland's geographic location on the periphery of Europe we are particularly reliant on air service access, but our ability to attract new routes will be seriously hampered as airlines, when faced with the continued rise in APD, will simply look elsewhere."
Edinburgh Airport's managing director, Kevin Brown, said: "We are not saying we should not be taxed, only that any taxation is fair and proportionate."
'Prudent judgements'
Prestwick Airport chief executive Iain Cochrane claimed the loss of business - because of a doubling in tax per passenger from £5 to £10 on short-haul flights - would lead to a £130m reduction in passenger spending through the Prestwick gateway.
Mr Cochrane said: "We firmly believe that the Scottish government is best placed to determine the balance between APD and the economic benefits of aviation growth.
"We are therefore today calling, not only for the abolition of APD but for the devolution of the matter to the Scottish government to permit a joined-up approach to economic development which relies significantly on connectivity."
He added: "Prudent judgements can then be made that are specifically pertinent to Scotland, recognising its geographical position depends far more heavily on good air services than most other areas of the UK."