Video firm IndigoVision issues profits warning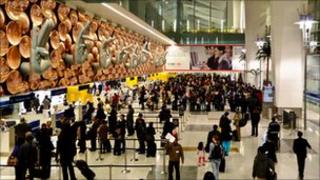 Video security firm IndigoVision has issued a profits warning, citing a slowdown in its rate of growth.
The Edinburgh-based company said it remained confident in its future, as the global IP video market continued to develop at an encouraging rate.
But it added it was "realistic about the risks and challenges" ahead.
The firm develops and makes internet-based video security systems, which are used in airports, ports, casinos and border crossings worldwide.
In a trading update on the stock exchange, the company said: "Since our interim results announcement in March, the group's rate of growth has slowed.
"We continue to expect that full year sales will exceed last year's revenue of £28m, but that they will fall short of internal forecasts.
"As we indicated in our interim report, gross margins weakened marginally in the first half. This has continued into the second half and we now expect gross margins for the year as a whole to be some 2% lower than last year."
It added: "As a result, we anticipate that group profits for the year to 31 July 2011 will be significantly below current market expectations."
The company was founded in 1994 and its systems are now used in about 80 countries.