Jenier World of Teas sells tea to India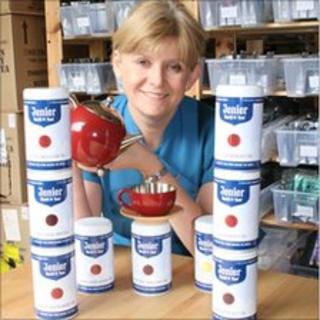 A small Scottish tea company has achieved the equivalent of selling coals to Newcastle - by selling Darjeeling tea to India.
Renfrewshire-based Jenier World of Teas were stunned to receive an order from the country, which is a major producer of the popular brew.
Ironically, the tea had been packed in India and exported to the e-commerce firm for packaging and branding.
The purchaser has since become one of the firm's biggest clients.
Jenier World of Teas owner Anita Clark, whose business is based in Houston, said: "I was shocked when I was asked if I could send Darjeeling tea to India.
"I e-mailed the gentleman to ask, in the nicest way possible, why he had needed to buy his Darjeeling tea from a Scottish tea company.
"He explained that high-quality Darjeeling teas, such as the ones we import and sell, are not readily available in India because the tea estates can make more money exporting Darjeeling teas than supplying to their own Indian market."
She added: "As we are an international e-commerce business he said he found it so easy to order online and have his favourite tea shipped directly to him.
"He is now one of our most loyal and valued customers."
Jenier World of Teas sells more than 170 different teas all over the world including Croatia, Turkey and South Africa.
Mrs Clark set up the business in 2009 with help from Business Gateway, which provides advice and support for new and growing businesses in Scotland.