Barnardo's boosted by charity 'Store Wars'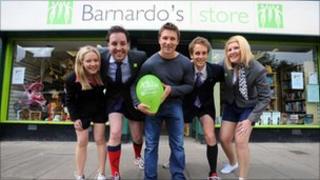 Dozens of accountants have set aside their spreadsheets to help boost store takings for a children's charity.
Eight teams, involving more than 100 staff at KPMG, staffed the tills for a day at selected Barnardo's stores in Aberdeen, Edinburgh and Glasgow.
The volunteers competed against each other to see who could boost takings by the greatest amount on the day.
The 'Store Wars' event is part of a two-year campaign by KPMG to raise more than £1m for Barnardo's.
Claudia Guerrero, who organised KPMG activities at the Edinburgh store on Nicholson Street, said: "After watching the Apprentice for many years, it was great to put our skills to the test and run a shop for the day."
'Very creative'
Martin Crewe, director of Barnardo's Scotland, said the KPMG teams had been "very creative" in their approach to the event, which saw many of the volunteers dressing up in fancy dress costumes to attract business.
The teams also drew on the support of players from the Scotland international rugby team and Aberdeen Football Club mascot Angus the Bull.
Mr Crewe added: "The money raised really does help to make a difference to some of the most disadvantaged children and young people in our local communities."
Barnardo's will use the funds to help provide essential items to children and families in need across the UK.