Business Lesson for M'Learned Friends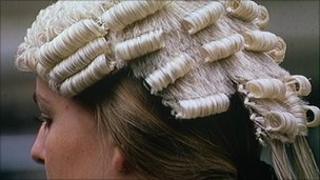 Pity Scotland's lawyers. No, really. Stick with this, because it matters. And it's not just that Alex Salmond has been beating them up verbally.
They've had a pretty torrid recession too, you see. Conveyancing from property transactions has gone through the floor, and anyway much of that work is being transferred into lower-cost para-legal activities.
Several big firms have abandoned the housing market, specialising elsewhere - unsurprisingly, in areas where there's more money to be made.
That includes corporate law, though that's had a hard time too. Of course, it's not so bad in insolvency and litigation - which picks up with an economic turn, as clients tend to feel the need to chase every penny, even if it's at the risk of vast fees for going to court.
But for those who make deals happen, it's been very slow. And those who enjoyed the work that came from boom times at RBS and HBOS have found that's been sharply reduced. The southward departure of headquarters clout at Bank of Scotland has hit some big legal partnerships particularly hard.
The most recent reckoning of earnings shows profit per partner in the larger firms has fallen by about 40% during 2009 and 2010, to just over £60,000. For smaller high street solicitors, often depending on conveyancing and Legal Aid, the fall in income and poor prospects ahead are putting quite a few out of business.
Tesco law
They can, of course, wait for things to pick up. But there's a new challenge of unknown and unprecedented dimensions that's heading the profession's way.
This is the law introducing Alternative Business Structures. Headline writers call it "Tesco law", though it has not much to do with the supermarket giant. Not yet, anyway.
The idea is that non-lawyers will be able to take a 50% stake in legal firms. Who might want to do that? The big accountancy firms are obvious contenders.
Doubters about this wonder what the legal partners would want to do with big investment from big finance, unless it's to pocket the windfall as profit.
There are also ethical questions. This move is underpinned by the notion that people seeking legal services are consumers. But lawyers suggest it's not a conventional issue of consumer choice: consulting a lawyer is about accessing your rights.
And what if you're rights are being confused with a broad-ranging consultancy that wants to sell you accounting, auditing and advice services? Conflict of interest quickly crops up.
Download divorce
It's unknown how big a change there could be from that, but the introduction of a similar change to English legal practices from October this year will be watched closely.
A more immediate prospect is the impact of competitors muscling in on the legal market, wielding big brands. Tesco is one such possibility.
But the law has given membership organisations a head start, and the financial services divisions of Saga, the AA and the Co-op are already on the case.
They've set up legal services divisions, largely accessed through websites where legal forms can be downloaded. Lawyers are available by phone to advise on how the forms are filled or concerning more basic services ranging across a change of name, making a will, getting divorced or disputes with neighbours.
Some of these are specifically for Scots law but by no means all. The AA says it can't back up the forms with Scottish legal advice, while Saga says it can do so. The Co-op is taking its time to build up its offer in England before tackling the complexities of going Scottish too.
There's also the prospect of franchise and federated brands being built up, in which small firms operate under a nationally-known name.
One such company intends to put a legal corner into branches of WHSmith throughout Britain.
As Steven Raeburn, editor of The Firm law magazine, argues in an interview for BBC Radio Scotland, this more competitive environment is all the more reason for lawyers to get some training in how to run their partnerships as businesses.
As yet, he says, being entrepreneurial - or even the challenge of marketing, strategic planning or meeting a payroll - are not treated as much of a priority for the nation's legal faculties.
You can hear his contribution, as well as that of Philip Rodney, senior commercial lawyer with Burness solicitors, via BBC Radio Scotland's Business Scotland website, on BBC iPlayer and through a free download.