Stands Scotland's economy where it did?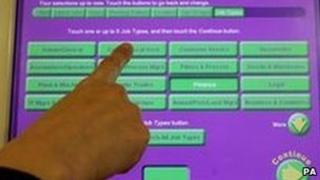 Alas, poor country. Almost afraid to know itself. Actually, Scotland has trouble knowing itself because it lacks the detailed and reliable economic data on which to judge the state of play.
But recent days have seen a range of indicators published that give us some help in locating where the Scottish economy is now positioned in recovering from recession.
The news is far from being all bad. To update Shakespeare, it isn't that poor a country.
The most recent Purchasing Managers Index showed recruitment at its strongest for three years. The latest Bank of Scotland labour market barometer, out today, is in line with that positive message.
The Office of National Statistics has registered a fall in the number of Scots seeking work in its past seven months of data.
On Friday, the Bank of Scotland's business barometer showed the balance of companies enjoying rising revenue, when set against those with falling revenue, was at its best for three years.
The Scottish Item Club twice-yearly forecast confirms there are big job losses afoot in the public sector, but it highlights indications that the private sector is on track to do well at replacing them. It says there should be 100,000 jobs created by 2015 - more than the total number being lost in public services in the seven years from 2008.
Anaemic growth
But there are clouds accompanying the silver lining. The purchasing managers index says new orders are poor. The ONS figures last week showed an end to the rising trend of the number of Scots in work.
And while we're at it, the labour market survey shows starting salaries of new recruits rising at their fastest rate for three years - great news if you're a new recruit, but in current circumstances, it hints at a problem of skill shortages down the road, probably at their worst in IT and computing.
Looking behind the findings of the business monitor, it's worth noting that the strong showing reflects an improvement from a particularly grim, weather-afflicted winter. And with 33% companies seeing rising revenue, that still leaves a lot that are not.
The Scottish Item Club, courtesy of Ernst & Young, is also warning that inflation is dampening growth prospects - this year, down from its previous forecast by 0.5% to an anaemic 1.7%, and little better next year. While the Item Club, using the Treasury forecasting model, has also downgraded its UK forecasts, both years put Scotland behind.
Dismal consumer confidence is cited as a source of concern, along with further commodity price instability - most notably the cost of energy. It highlights the lack of business investment at UK and Scottish levels, which is necessary to sustain growth while consumer and government spending is weak.
And the Item Club throws in a warning that the debate over corporation tax powers and an independence referendum is creating uncertainty, which could harm business investment in Scotland.
It's a carefully-worded warning, but behind it are interesting, low-key discussions taking place within business on that issue.
Drilling down data
There are also interesting bits of economic analysis coming out of these reports and others that tell us more about how Scotland has been faring.
Being published today is a new analysis of Scotland's growth over the past 13 years by the Centre for Public Policy for Regions at Glasgow University.
While Item Club forecasts are downbeat for Scotland over this year and next, it finds that growth has been relatively strong over the medium-term past.
In 2003 to 2007, for instance, Scotland was outgrowing the UK as a whole, and through the downturn from 2007 to last year, Scotland and the UK contracted at very similar rates.
This matters because one of the main targets of the first Salmond administration was to bring Scottish growth rates up to UK rates. It's odd (and the CPPR has pointed this out before) that this had already been achieved before the SNP took office.
Perhaps such good economic news was seen as unhelpful to the cause, or perhaps SNP ministers don't trust their own figures. On some data, particularly when you drill down to sectors including hospitality, financial services and construction, they have good reason for doubt.
And because these figures are a bit iffy, it makes it more difficult to develop economic growth policies.
Volatile jobs
Does this relative growth rate matter? For one big reason, it is going to do so.
Scotland is on track to get much wider income tax powers. And if Scotland's growth rate lags, as the Item Club forecasts for this year and next, then that would mean a lower increase in aggregate earnings from which that tax revenue is drawn.
Coming further up-to-date, the Scottish Item Club has a telling analysis of the Scotland's jobs market over the downturn so far.
Between April 2008 and March 2010, Scotland suffered by far the worst fall in employment of any part of the UK. By the end of that period, employment was down 130,000 from its peak - more than 5% of employment.
But then, from March 2010 to January of this year, Scotland has done relatively well in putting on jobs. Only London, Wales and the East Midlands have done so at a faster rate. The West Midlands and north-east England continued to lose jobs.
Why has Scotland been more volatile? It's not that easy to say for sure, but the Item Club economists suggest it might be explained by sectoral changes in employment.
The public sector would have put on 40,000 more jobs if it had continued growing on its previous trend, but instead, the early stages of the downturn saw many more than that shed in public administration, defence, health and education.
On a similar basis, the bounce-back it identifies is strongest in construction, scientific and technical services, hospitality and retailing. Administrative support jobs have fared worse through that phase.
A broader explanation for that big fall and rebound in Scottish jobs is that Scottish employers were faster to shed staff with the downturn than in the rest of the UK. But as orders and prospects have picked up, that left gaps which meant those employers have been fastest to pick up staff.
Is that a sign of smart thinking and quick responses? Perhaps, but there's a danger there: that they throw away the skills of former staff, and have to spend heavily on recruitment and new training.
Ups and downs of savings
And here's another interesting observation. While the fall in interest rates in 2009 helped people shift their spending into paying off debt and saving more, that process has fallen back.
In 2009, Scottish households boosted savings to 7.3% of income, but by the third quarter of last year, the latest available data shows that fell to 4.8%. The UK figures show less of an initial boost and less of a fall, from 6 to 5.5% of household income.
It seems Scots have slowed up on saving in order to use their disposable income to keep up living standards in the face of higher prices.