Skyscanner to set up operation in Singapore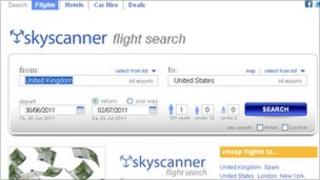 Travel search site Skyscanner is to open a new regional operation in Singapore later this year as it seeks to capitalise on strong growth in Asia and the Pacific Rim.
The Edinburgh-based firm's announcement came as it reported a 75% increase in turnover last year to £15.2m.
Skyscanner provides online comparisons on millions of flight prices for more than 600 airlines.
Founded in 2001, Skyscanner now has more than 14 million users a month.
Skyscanner said it would open an office in Singapore in September after seeing yearly increases in traffic of up to 90% in countries such as China, Indonesia, Japan, India and Malaysia.
'Strong growth'
Ewan Gray, newly appointed regional director for Asia Pacific, commented: "We're seeing exceptionally strong growth in these markets which has largely been organic to date.
"However, the huge scale of these markets, combined with their sophistication and speed of growth, presents a particular set of technical and business challenges and very specific customer requirements.
"While online travel companies find internationalisation tough, we're confident about the scalability of our business model."
He added: "Skyscanner was designed from the outset to perform well at a global level - building comprehensive flight coverage through direct airline connections, as well as solving language and currency issues."
Skyscanner said the fast pace of international expansion had accounted for the majority of its growth in the past three years.
This, it added, had been fuelled by highly profitable core markets and a rapidly expanding network of direct commercial partnerships with airlines, online travel agents and other travel companies throughout the world.
Appointments for the new Singapore operation include Yi Bao, formerly from travel start-up Zoombu, who will take up the role of market development manager.
Zoombu was acquired by Skyscanner at the end of 2010.